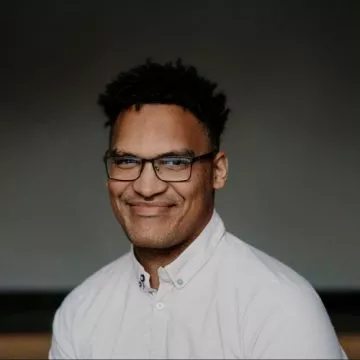 Bernard Meyer
Content Growth Marketer
Reading Time: 7 minutes
Picture this: you step into a room of marketers and developers and ask them what critical features are missing from your website. A majority of them will likely answer 'web push notifications.' 

Website push notifications refer to clickable messages sent by a website to a subscriber's browser. The big difference between these and mobile push notifications is that they exist on websites and are accessible across various devices based on the user's browser.  
Moreover, web push notifications are an effective and powerful marketing tool utilized by ecommerce businesses to connect with and engage their audience. They also help keep your customers up-to-date with important information, sale announcements, and enticing offers. In turn, these help drive greater and better ecommerce conversions. 
A common myth nowadays is that email has lost its charm and that SMS is dead in the water. However, statistics show that 29% of all email orders come from automated messages and that the overall push notification rate went up to 28% in 2020—a nearly 500% increase over 2019.  
If you're wondering what web push notifications mean and how they can help your ecommerce business, this is your answer. Our in-depth guide will help you understand the ins and outs of web notifications and their uses. 
Download our complete guide to omnichannel marketing automation for ecommerce businesses
What are Web Push Notifications Used for? 
If you're wondering if you should use web push notifications, here are a couple of reasons why it will supercharge your ecommerce store.
High Opt-in Rates 
While pop-ups require an email address to deliver newsletters and promotional offers, web push notifications demand no customer-related information. 
A simple click kickstarts the process, and it's the main reason push notifications boast a higher opt-in rate. Moreover, the opt-out rate for browser push notifications is low.    
Quick Content Delivery 
A benefit of web push notifications is that clicking on 'send notification,' or setting up automated web push notifications, leads to direct, immediate messages to users. 
While email is one of the most effective communication channels for ecommerce businesses, there's still the risk that your email may go into the spam folder or fail to deliver. The users may also never open or see your email. Web notifications are guaranteed to reach your users within a very short time.
Better Conversion Rates
Web push notifications have a no-nonsense style that helps push users to the specified link via a single click and a short message. 
But this means that using enticing notification headlines is necessary for captivating your audience. 
In fact, in-depth research shows that web push notifications boast a whopping 30% conversion rate.  
Increased Website Traffic
One excellent use of web notifications is that it helps you boost on-site traffic. The best way to achieve this is to post push notification messages with content that captures the user right away. 
If your offer is enticing enough, your ecommerce website will notice a substantial rise in direct traffic and sales. Combine a tempting limited-time sale with web push notifications to drive real-time and valuable traffic. 
A Vast Audience 
Search engines like Chrome, Firefox, and Safari boast a market share of 64%, 3.68% and 19.3% respectively. This means that using these browsers can give you access to a wider audience.   
On top of that, push notifications allow you to connect with users who are not currently on your website. 
Top Examples of Web Push Notifications
Let's take a closer look at some examples of web push notifications to understand better what kind of push notifications can get you the best results for your ecommerce business: 
Welcome first-time buyers with enticing offers. For instance, 'Our welcome gift to you – Enjoy a magical 10% off your first order!'

Send personalized push notifications and retarget past customers based on buying behaviors. For example, 'Chilly winds are on their way. Stay warm with the help of these cozy yet stylish coats.' 
Abandoned cart notifications such as 'Tick-tock, time's running out, and your items are waiting!'

Personalized recommendations can be made based on the user's behaviors or preferences, such as 'Three classy black dresses handpicked for you.'

Upsell opportunities to encourage leads to turn into loyal customers: 'Enjoy free shipping by spending $5 more!'

The Anatomy of Web Push Notifications 
Web push notifications are pretty simple to understand. Here are the main components of effective web push notifications:
Notification/Push Title
You can write your brand name here, but it's best to use it as an enticing title for what your message is about.
Notification Content/Push Message 
This contains the message you send. The character count typically varies between browsers. However, the shorter and more precise, the better your content will sound.
Notification URL 
This refers to the domain sending the web notification. Because your domain is most likely related to your brand, you won't need to identify your business elsewhere.
Notification Image 
This may be a relevant and eye-catching logo or product image.
How to Implement Push Notifications 
Push notifications work perfectly with Shopify, BigCommerce, and API-integrated ecommerce stores. However, they only work if your site has an SSL certificate.  For the most part, setting up web push notifications yourself can be a bit of a task. Here are the steps you need to take:
Start the process by implementing service workers for Firefox and Chrome browsers with SSL or APN certificates. 
The browser provides standard API calls to prompt visitors for notification consent and to read user subscription permissions for the domain. 
After that, start sending push notifications to your audience by executing APIs via the browser push system.  
On the other hand, businesses may opt to use various tools and platforms, such as Omnisend, to take care of the above steps for them.
Omnisend's marketing automation platform includes multiple channels, such as web push notifications, SMS, and email, that can be set up strategically on autopilot so that the right message goes to the right customer at the right time.
Sounds too good to be true? Try out Omnisend for free and see for yourself.
Best Practices when Implementing Web Push Notifications 
Let's discuss the top practices to keep in mind when using web push notifications.  
Tech Requirements 
Often users wonder whether it's necessary to use HTTPS/SSL to send web push notifications. The answer to this question is yes. A majority of browsers require you to use HTTPS, apart from Safari. If you're using Google Chrome, Opera, or Firefox, you're going to need HTTPS to send web push notifications. 
If your website lacks HTTPS, it's recommended you set up one to use push notifications effectively. Although there are various tricks to get around the HTTPS requirement, they all essentially involve duping people into subscribing to receive web push notifications from you. 
Since one of your main goals in your ecommerce business strategy is to gain your customers' trust, it's not recommended to use this. Setting up HTTPS is pretty easy—and it should be installed on all ecommerce stores by default. 
After that, use marketing platforms like Omnisend to send not only web push notifications, but SMS and emails as well, all with automation, segmentation and other advanced, high-converting features.
Browser Differences and Limitations 
Most browsers support web push notifications. However, each browser comes with its different set of limitations and differences. You'll notice subtle differences between the appearances of the form of various browser opt-in prompts, for starters.  
When it comes to the actual notifications, the significant difference to keep in mind is related to custom icons. While Safari does not support this feature, other browsers do. It is necessary to keep this feature in mind when you're designing your campaigns.
Last but not least, the most significant limitation is the absence of iOS support. As of now, no browser boasts the ability to send web push notifications to iOS devices. 
Time Zones
The fact is that no one wants their peaceful night's sleep interrupted by alerts. For this reason, you must use time zone features. This will help ensure users across the globe receive notifications at the best time for them. 
However, if you do not wish to send the notifications at specific times, you can utilize different features to target users when they are most likely to be active. 
How Can Web Push Notifications be Used with Different Channels? 
Push notifications in general remain one of the best ways to elicit an instant reaction. It's also an excellent and effective marketing communication tool. A perfect way to use web push notifications to up your marketing game is by combining them with various channels.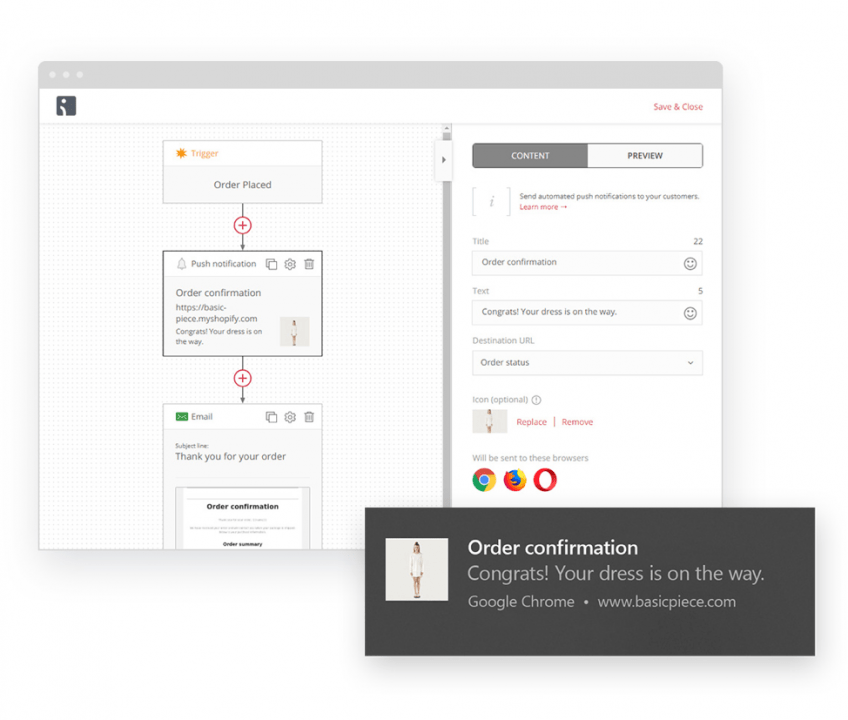 Omnichannel marketing refers to utilizing various digital and traditional marketing channels to send relevant messages to customers regardless of whether they engage with specific media or not. It's an excellent way of boosting your engagement rates.
In fact, statistics show that marketers who utilize three or more channels in their campaigns earned an 18.96% engagement rate compared to the 5.4% from single-channel campaigns. Moreover, omnichannel campaigns received a 250% higher purchase rate.
A simple combination of emails and SMS or push notification and email helps you drive better traffic towards your website—allowing you to craft the perfect omnichannel marketing strategy to transform the first-time buyer into loyal ones.
Final Verdict 
Web browser push notification is, without a doubt, one of the most influential and straightforward marketing communication channels. What makes it stand out from other marketing methods is the lack of restrictions and the instant delivery.  
Web browsers aren't strictly for marketing and promotional purposes. Instead, you can utilize them to deliver helpful information such as order status updates, abandoned cart alerts, enticing offers, even breaking news and so on. 
If you want to learn more about push notifications and how to use them, sign up for a free 14-day Omnisend trial.
Special thanks to our friends at
Omnisend
for their insights on this topic.