Marsello integrates seamlessly with Ecwid by Lightspeed and




your chosen Point-of-Sale platform.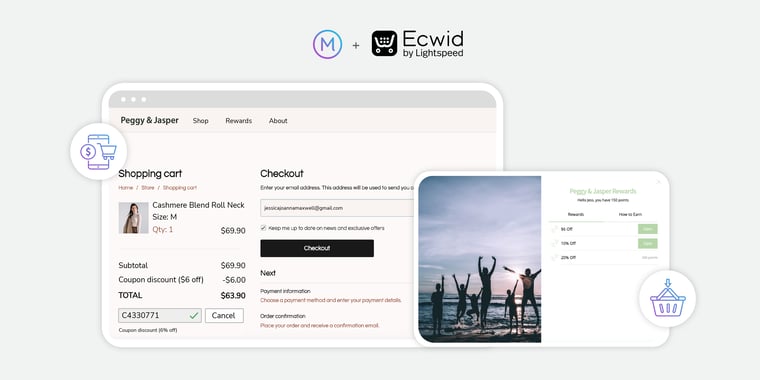 If you use Ecwid to power your eCommerce store, you can now run your customer loyalty program across your physical stores and online! And that's not all – grow your ROI, nurture customer relationships, boost customer loyalty, and grow your business with proven marketing strategies all available within the Marsello app.
But what does this mean for your business, customers, and marketing? Let's dive in and understand what Marsello brings to Ecwid retailers.
What marketing can you achieve with Marsello x Ecwid by Lightspeed?



Marsello integrates seamlessly with Ecwid and your POS provider making it easy to set up and run your retail marketing strategy across your Ecwid eCommerce and brick-and-mortar stores.
Here are our top marketing features for Ecwid retailers:
Run a fully-integrated loyalty program with Marsello, Ecwid, and your POS provider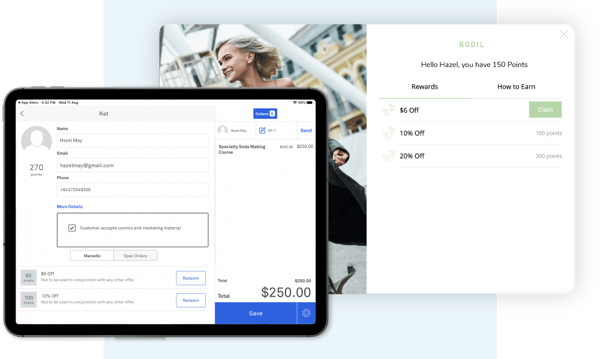 Turn one-off shoppers into brand ambassadors and reward customer loyalty with an omnichannel customer loyalty program that encourages customers to keep coming back no matter where they like to shop. 
Studies show that up to 86% of customers are more loyal to the brands with which they have reward program memberships. And this number grows again when customers can access their loyalty program information and benefits in-store, online, and on the go. 
With Marsello & Ecwid, your customers can automatically earn points for online purchases and effortlessly redeem rewards at checkout, just like they do in-store. And because Marsello integrates with Ecwid and your chosen POS platform, all your customer data, loyalty marketing results, and essential business are wrapped up in detailed closed-loop reporting. Then, you can use this information to refine your marketing strategy and create an undeniable customer-centric loyalty that boosts your ROI. 
Make the most of your Marsello-powered marketing and offer an eCommerce and POS loyalty program that all of your customers love. Build life-long relationships with your customers and turn them into brand ambassadors with a customer referral program that rewards successful friend referrals.  
Learn more about customer loyalty with our Loyalty Marketing Guide.
Design and trigger automated marketing campaigns directly from in-store and online purchase behavior
With Ecwid connected to Marsello, you can automate marketing campaigns from customer activities across your entire business. From welcome messages to customer reactivation, it's easy to customize and enable pre-built workflows for every step of your customer journey or design and build new flows from scratch.
Marketing automations help you to encourage purchase, build customer relationships, and boost sales with perfectly timed emails and SMS automations triggered by customers' purchase behavior. And because Marsello integrates with Ecwid and your chosen POS provider, your customer data is captured no matter where they shop, making it easy to trigger the right message to the right customer at the right time. 
Did you know that 76% of companies that start using marketing automation generate noticeable ROI within the first year? If you don't already use automated marketing campaigns to delight and engage your customers, now is the perfect time to start.
Learn more about Marsello's Marketing Automation software.



Create personalized one-off campaigns to increase sales online and in-store
Marsello's integration with Ecwid and your POS makes it easy to use one-to-one email and SMS campaigns to design personalized campaigns that help to build diverse customer relationships. 
Marsello automatically collects your customer data and organizes shoppers into customer segments, giving you access to valuable insights that make it easy to personalize your campaigns and target specific customer groups strategically. Offer your best customers exclusive deals and encourage them to share promotions with their friends, then target at-risk customers with easy-win campaigns that encourage them to shop with you again before they disappear for good. The options are endless! And with a library of professionally designed email templates for you to choose from, creating stand-out campaigns that excite every type of customer is simple.
Gain customer insight and track the effectiveness of their marketing accurately in-store and online
With both your POS and eCommerce connected to Marsello, you can also track the efficacy of your customer marketing strategy. Closed-loop data attribution directly attributes your marketing efforts to sales, helping you understand the success of specific campaigns, flows, and marketing tools while also creating opportunities to improve and iterate on areas that don't perform as expected.
Testing is an integral part of the marketing journey, and accurate data reporting will help you curate valuable marketing campaigns that get results. 
Look at it this way: by understanding what tools work well with your business and customers, you improve the customers' experience. Merrell NZ had this to say about testing their Marsello-powered marketing campaigns:
"Marsello also offers automations, loyalty, rewards, email campaign segmentation, SMS. All the tools that we knew we wanted to test in stages as our eCommerce and business grows."
They went on to add: "Marsello is a platform that provides you with a lot of solutions that you can test step-by-step while looking at the results. It's not an expensive tool, so it makes sense to test it for a couple of months." 
By investing in accurate reporting and using the data to improve your marketing, you'll boost customer engagement and, therefore, increase your ROI. 
And Marsello's insights don't just stop at reporting around your marketing efforts. By connecting your Ecwid and POS providers to your Marsello account, Marsello automatically segments your customers into marketing lists, making it easy for your to confidently create marketing campaigns and promotions designs for specific customer groups. You can even create your own customer segments – a simple way to design campaigns for groups like your VIP loyalty program customers.
Understand more about the insights you'll see in your Marsello dashboard or learn more about our Marketing Lists feature.



Final words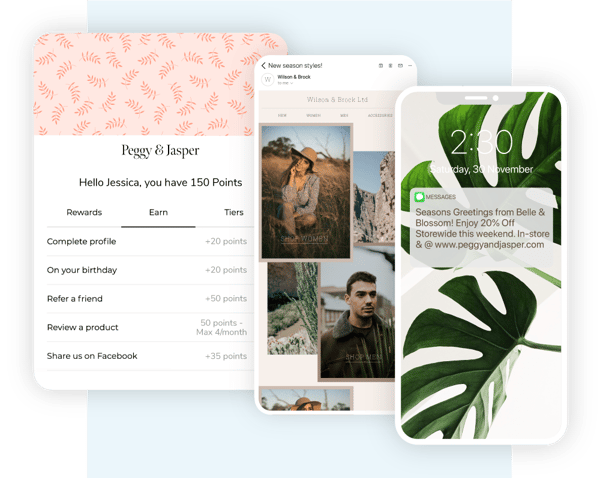 By connecting Ecwid and your POS platform to Marsello, you gain access to a variety of marketing tools designed to help you get the most out of your retail marketing strategy. From customer loyalty programs to marketing automations and one-off campaigns, there are countless ways to build life-long customer relationships, promote your business, and encourage new growth.
We haven't even covered all the tools Marsello has to offer! To name just a few: feedback surveys, online pop-ups to gather customer data, sync your marketing lists to Facebook Ads audiences, unique coupon codes – these are still just a few of the tools on offer.
Ready to increase your ROI and design an retail marketing strategy that engages customers no matter where they chose to shop?
Published Dec 15, 2021 11:01:44 AM
Special thanks to our friends at
Marsello
for their insights on this topic.