You've exhausted your budget on Google and Facebook ads. But even though you're getting traction, it either remains minimal or doesn't generate substantial sales for your Shopify store. You're not alone. But with the increase in social media ads and the decrease in users' attention spans, it's essential to look beyond traditional marketing strategies.
The solution: influencer marketing.
67% of marketers plan to increase their influencer marketing budget. 60% of marketers claim that influencer-generated content performs better than brand-generated content.
While these figures might interest you in experimenting with influencer marketing, a big question remains:
Do you need a big budget to work with influencers? The short answer is no. You can work with influencers, no matter your budget—big, small, or nada. Let's see how.
3 Factors to Consider While Setting an Influencer Budget
While it's true you don't need excessive budgets to make influencer marketing work for you, there are some factors you need to consider to ensure you're budgeting right and don't end up underestimating or overestimating your costs to justify your ROI in the long haul. Let's look at three such factors:
1. Influencer fees
How much (and how) you pay your influencers depends on the collaboration you seek. Based on your business size, you can work with influencers who have a follower and engagement bracket ranging from small to medium with varied rates:
Mega influencers: 1M+ followers; charge over $10,000+ per post
Macro influencers: 500,000-1M followers; charge over $5000-$10,000 per post
Mid-tier influencers: 50,000-500,000 followers; charge over $500-$5000 per post
Micro-influencers: 10,000-50,000 followers; charge over $100-500 per post
Nano influencers: 1000-10,000 followers; charge over $10-$100 per post
Beyond followers, rates may also vary with the platform you want to collaborate on and the scope of your campaign. For example, there can be a significant difference in rates if you work with an influencer on an Instagram campaign where you provide a detailed brief with a script, and they have to shoot the content while you take care of the editing and distribution vs a YouTube campaign where they're doing everything on their own.
Thus, it's important to hash out the details of your campaign before you start seeking an influencer. While it may seem like there's only one way to compensate an influencer, you can explore other methods:
Monetary
The most straightforward way of collaborating is through monetary compensation. You set out a budget and negotiate a one-off or recurring rate in alignment with your budget and campaign specifics.
Performance-based
You forecast the expected traction based on the influencer's current metrics and the results of previous partnerships to set a base rate and terms for additional compensation based on the campaign's results. This requires clearly specifying the metrics and how they will be compensated and calculated beforehand. However, it poses some uncertainty for the influencer.
Affiliate or revenue-sharing
You offer a certain percentage of each sale or total sales generated through the campaign, so there's potential for them to make more money, and there's accountability on your end.
Product-only or barter
Although this is rare nowadays and is often accompanied by a base amount, nano influencers may agree to work on a barter collaboration that enables you to work without paying any money and tap into their niched audience while allowing them to build their portfolio.
2. Marketing budget
While creating a budget, one of the biggest things to consider is your larger marketing budget and where influencer marketing fits into it.
While allocating, remember that your influencer marketing budget should also include the cost of distributing that content on other channels like social media, newsletters, or ads. With a large budget, you can also consider the cost of out-of-home advertisements (OOH) like billboards.
However, no matter your influencer and distribution strategy, research suggests that 25% of brands spend 10-20% of their marketing budget on influencer marketing, while 23% indicate they spend over 40% on influencer collaborations. Thus, depending on your marketing goals and objectives, you can allocate between 10-40% of your marketing budget to influencer marketing.
3. Internal resources
While influencer marketing will require you to work with influencers or outsource your requirement to an influencer marketing agency, you should also consider the internal resources you'll utilize to make these campaigns successful.
For example, consider whether you need a software subscription to operationalize influencer management with payroll, analytics, and legal compliance capabilities or new camera equipment for quality content production.
Further, consider the time your team will spend on this and how it will pull their bandwidth from other tasks. Based on this, you can outsource content editing or create a dedicated team that may require an additional budget. Without considering these factors, you may underestimate your requirement and exceed your budget. Thus causing bottlenecks in the long run and impacting the viability and ROI of your influencer marketing campaigns.
Influencer Marketing with a Large Budget
If you have a big marketing budget and can allocate substantially to influencer marketing, you can strategically plan your campaigns to maximize the results over the long term than a single spike in traction. Here are some tips:
1. Don't skimp on your goals
A large budget means more accountability to justify your spending on influencer marketing. So before you start contacting big influencers, take two steps back and outline your goals. Look over your analytics, and see which platforms are performing best for you. And set up a cross-functional meeting with customer success, sales, and product to anticipate the scope of the campaign and what you're trying to achieve.
Instead of setting far-fetched, vague goals like "blow up the internet", see what matters most to you—is it reaching a specific audience segment based on their ticket size or a new offering you're launching? Based on this set of precise key performance indicators (KPIs), look at your historical data and forecast the expected results to set realistic goals.
2. Be picky about your influencer
Your campaign's objective and goals should define the influencer you pick instead of going with the influencer with the biggest following on social media. Start by defining some parameters that best describe the influencers for your campaign to narrow down your search and pick the closest fit.
Dior's award-winning campaign, 67 Shades of Dior, which celebrated the launch of its Forever foundation that blended 67 unique shades of foundation, partnered with 67 influencers to celebrate the diversity of the product, where they shared the content on their channels for 67 days consecutively.
Some of their criteria for choosing influencers apart from engagement and follower levels included meeting authenticity tests, being in specific consumer territories, having audiences interested in beauty, and creating high-quality beauty-related content that the brand could share on their channels.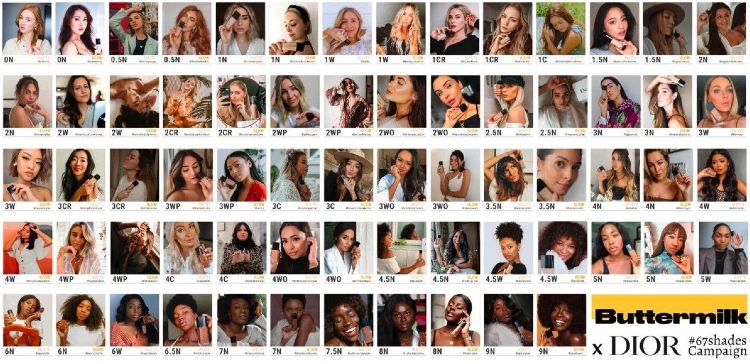 Thus, planning the campaign and then carefully cherry-picking influencers that best suit its objectives and intended results is essential.
3. Get creative
With a large budget, you can move beyond the standard product endorsements and explore unique experiences that align well with your brand's identity and values. The idea is to craft a memorable experience that strikes the right chord with your audience, creates a lasting impression that builds brand equity and gets you results long after the campaign starts wearing out.
For example, Tarte Cosmetics takes influencers on overseas trips sponsoring their stay right from the flight in business class to stays in 5-star resorts. Influencers have access to all products, even those that aren't available to the public yet. Thus maintaining exclusivity and compelling the influencers' audiences to follow along with the journey. Their recent trip to Dubai was shared on TikTok with the hashtag #tartedubaitrip. It generated over two million views and has been a hot topic of discussion on social media, like each of their 20 influencer trips.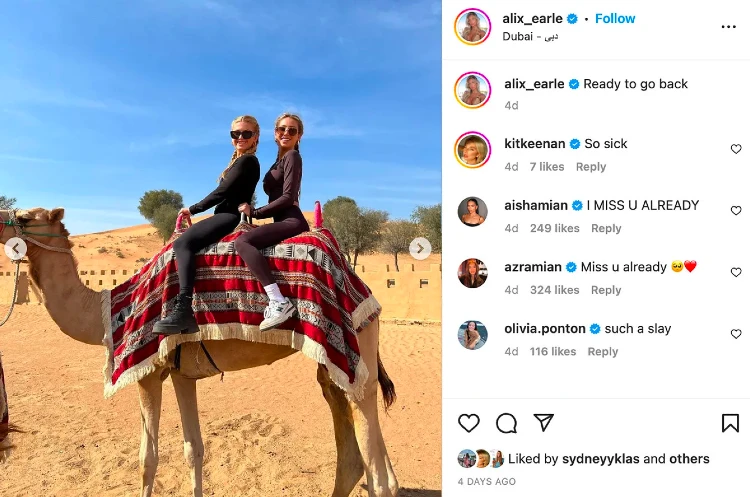 4. Prioritize high-quality content production
One of the most prominent benefits of having a big budget is having the ability to get the best-in-class equipment, hardware, and software and a team of professionals who can generate quality content that reflects the brand's personality. This includes producing extremely well-shot images and videos and investing in expert editing that offers an excellent experience to the audience.
Focus on co-creating with the influencer and providing clear briefs on how you want the vision to translate into reality by discussing how you can support them with content creation. By doing so, you'll be able to build trust with your audience and deliver the intended impact. Glossier is a good example of a brand that executes minimal yet aesthetic influencer campaigns.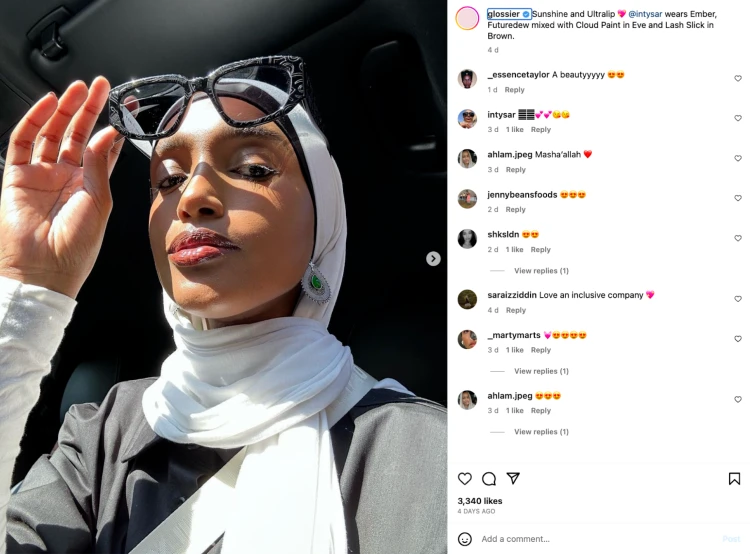 Influencer Marketing with a Small Budget
Contrary to what we usually see on social media, influencer marketing doesn't have to look like extravagant launches, red carpets, and billboard advertisements. It can also look like inviting some influencers to your office or showroom to give demos while engaging in conversations over snacks and drinks. So no matter how small your budget is, you can make influencer marketing work in your favor. Here's how:
1. Work with micro-influencers
While the A-listers with many followers may seem more beneficial to you, the right micro-influencers can get you real results because of how engaged their audience is and how personally connected they are with their audience, making them a highly trustworthy source for their audience. Since their followers lie within the 10,000-50,000 bracket, they may also be more willing to enter into collaboration at low costs, as long as you have shared values—that can also explain why over 90% of businesses prefer working with micro-influencers, who have an engagement rate of 3.86% as compared to 1.2% for mega influencers.
Look for employees, brand ambassadors, niche users with a social media following, or community members who actively purchase from you by tapping into your data and eyeing organic user-generated content (more on this later). These are your brand lovers and advocates that already endorse your brand and know about it, thus widening the scope of succeeding on a small budget.
2. Focus on building long-term relationships
Finding micro-influencers who align well with your values, create quality content, relate with your products, and reflect your brand's true personality with the right tone of voice is a dream. So, instead of entering into one-off partnerships, focus on fostering long-term relationships by creating retainers.
Influencer marketing is everything but an overnight game. Thus, it requires nurturing the audience consistently, which can only be done by developing relationships based on value exchange rather than one-sided product promotion. Retainers may also help you negotiate a more affordable rate with the influencer considering the recurring compensation you offer them, along with other benefits like early access, free products, or event invites that allow them to attach themselves to your brand name and benefit mutually.
3. Champion user-generated content (UGC)
Content generated by a real user is called user-generated content (UGC). It's one of the most cost-effective ways to get original content for your channels without spending much of your time. Besides, the nature of UGC suggests that those endorsing the products have used it themselves, building trust in the brand. In fact, 79% of people say UGC influences their purchase decision. And consumers find UGC almost 10x more impactful than explicit influencer content while making purchase decisions.
To get the best results from your UGC campaign, plan out challenges, giveaways, contests, or seasonal posts asking users to share their experience with your product(s) with a specific hashtag in return for exclusive benefits like incentives and rewards. Pura Vida is an excellent example of using UGC with #puravidabracelets.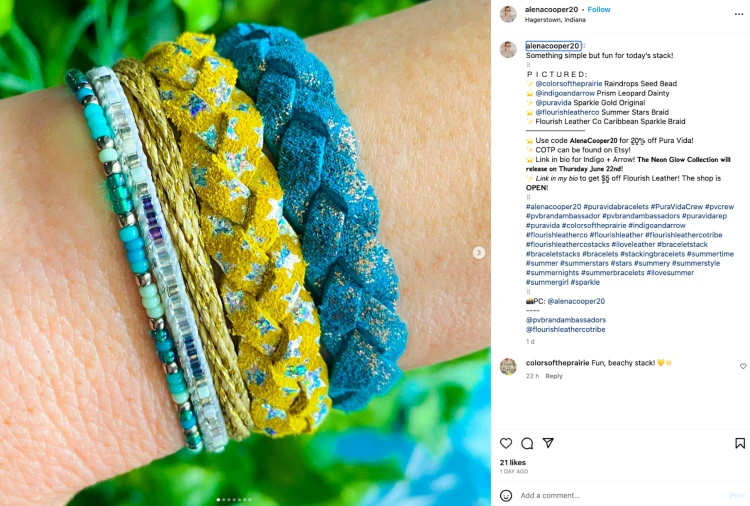 4. Lead with storytelling
Influencer marketing may not generate the expected ROI if you're looking for a single uptick in sales. However, if you focus on collaborating on campaigns that leave an impact on your audience, they may remember you months or even years after your initial campaign.
The key: storytelling.
Instead of controlling the content's narrative, give influencers the creative freedom to express themselves and relate back to your brand with their story or the shared values with which you lead.
One of the most effective and straightforward influencer marketing campaigns with brand storytelling was executed by Airbnb, called "Live There". They collaborated with influencers to share their experience and stories of staying at an Airbnb, instead of a hotel.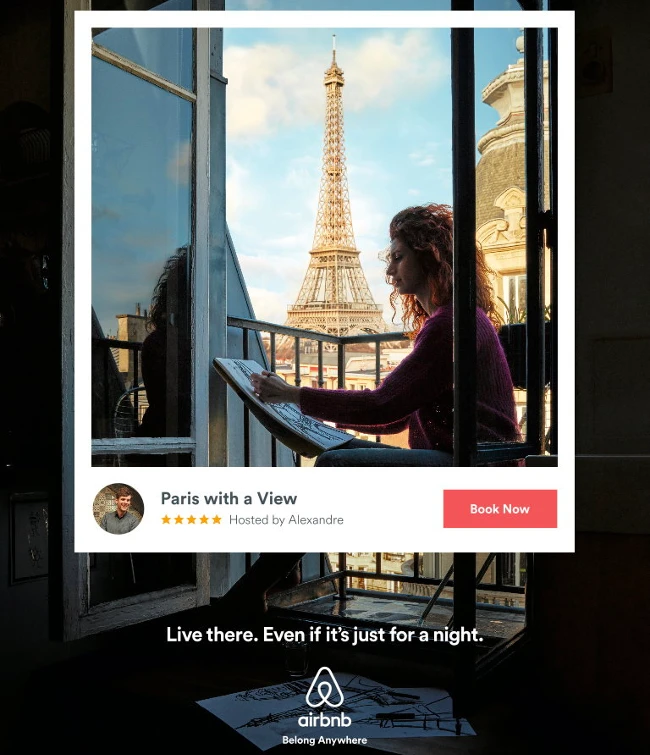 Influencer Marketing with No Budget
You're a new brand. You've just started marketing, and everyone's talking about influencer marketing being the "endgame" to get traction and sales. But you don't have a budget. So you resort to more organic marketing activities like SEO and social media, although they take time to get results.
But what if you could do influencer marketing without any budget and actually get results with it? Seems unrealistic? Let's see how you can make it work for you:
1. Set realistic marketing goals and objectives
The first and most important question you must ask yourself is: What do you want to achieve with influencer marketing? Is it brand awareness, product demos, sales, or website traffic? And what percentage increase do you want to see?
Define each of these very clearly to map out your strategy because this will define which influencers you reach out to and what kind of partnership you engage in. Besides, this will enable you to track your progress and decide whether to invest monetarily in influencer marketing.
2. Seek nano influencers, existing customers, and brand ambassadors
Nano influencers have highly engaged, albeit small audiences. Thus, they're the most likely to agree to a non-monetary collaboration. Furthermore, they can help you gain more visibility and build trust through consistent partnerships that highlight the value of your products.
Vanshika Mehta, a brand strategist, also suggests that brands without budget should start with nano influencers and engage in barter collaborations where you can offer equal visibility to the influencer and make it a mutually-beneficial partnership.
Further, she suggests creating a program to turn influencers or users into ambassadors or affiliates who can get compensated based on the results they generate to encourage more skin in the game. As your brand grows, you can develop this program further and foster a community of brand ambassadors that create UGC and benefit from performance-based compensation and exclusive benefits.
3. Offer more than you ask
If you don't offer monetary compensation to an influencer, a one-off barter may not work. It's essential to communicate that it's a two-way street, where they benefit from attaching themselves to your brand to gain more exposure through cross-promotion, build their portfolio, and unlock comprehensive benefits beyond free products.
Moreover, looping in the conversation of a retainer from the beginning can stir more interest than a single campaign, promising continued visibility that can convert into a paid partnership. The key here is to build relationships by adding value to each other and providing them with the resources and guidance they need to give their content game a facelift while allowing you to reach more people.
4. Experiment with content collaborations
While brand ambassador programs, affiliate partnerships, and barter can work well to drive initial traction, you can take it a step ahead to engage in content collaborations. Identify creators who create quality content around your industry, and explore the potential of co-creating content through Instagram collaboration, live streams, profile takeovers, remixes, podcasts, or webinars.
Here's an example by Nomatic showing an Instagram collaboration post between the brand and an influencer.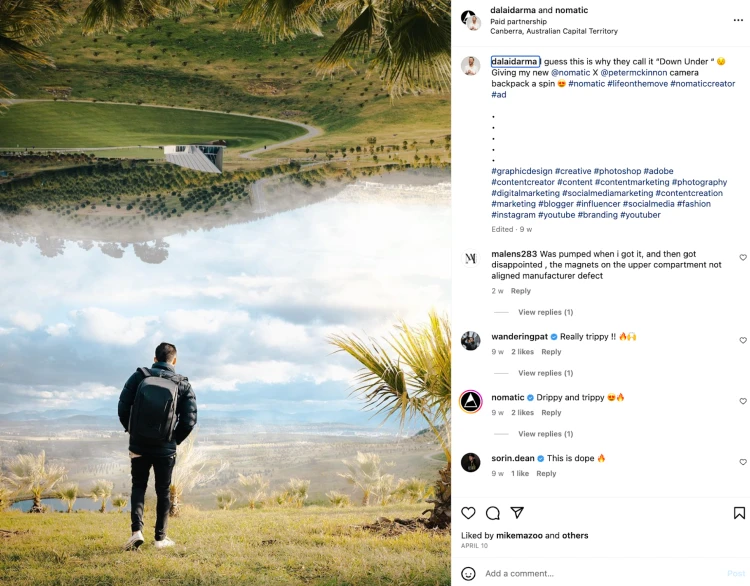 Influencer Marketing Isn't One-Size-Fits-All
When it comes to influencer marketing, no two brands can have the same strategy. As there are so many moving parts to making a campaign successful. However, budget defines the scope and effectiveness of your influencer marketing campaigns, which can be manipulated in your favor if you look at it strategically. Whether you have $100,000 or $50, you can tap into the benefits of influencer marketing through strategies tailored to your business size, goals, marketing budget, and campaign type.
If you're ready to explore the power of influencer marketing, install the Afluencer app for Shopify.
This originally appeared on
afluencer
and is available here for wider discovery.